AWS EC2 - Spin Lenses Instance
Question
How to setup Lenses on an AWS EC2 instance?
Answer
Launch Ec2 instance
In the AWS platform navigate to the Launch Instance section
From the AWS console select an Amazon Linux AMI
Select an instance type, t2.large is recommended
Select Next on steps 3, 4 and 5
On step 6 Create a Security group with ssh access from your ip:

Click on Review and Launch and then Launch
At this point a Key pair window will popup
Key pair
Select Create a new key pair (RSA) and give it a name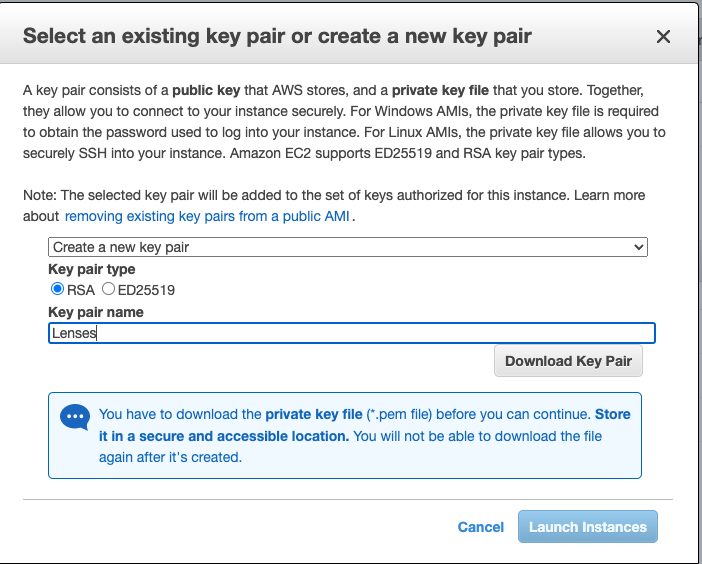 Download your key pair
Rename from .cer to .pem
Open a terminal window at the key folder and make sure to execute chmod 400 <Your Key Name>.pem in order to be able to use the key.
Back to AWS UI
Select the Key pair just created
Select Launch Instance
SSH to instance
From the AWS EC2 interface grab the instance public DNS.
Then SSH to the instance by typing:
ssh -i <Path to your Key>/<Your Key Name>.pem ec2-user@<Your instance Public DNS>

CLI commands
Once inside run the commands:
sudo yum update -y


sudo amazon-linux-extras install docker -y


sudo service docker start

and then:
sudo docker run -e LENSES_PORT

=

8080

 -p 8080:8080 lensesio/lenses

Extra: Interact with Lenses from a browser
At this stage Lenses is running inside an EC2 instance. In order to preview/interact with the Lenses environment from a browser, provide ALL TCP access to the security group attached to the instace for your IP.
On the security group appointed to the ec2 instance:
Click on edit inbound Rules
Add rule: All TCP Access or allow only port 8080 for increased security
Select your IP address and click on save rules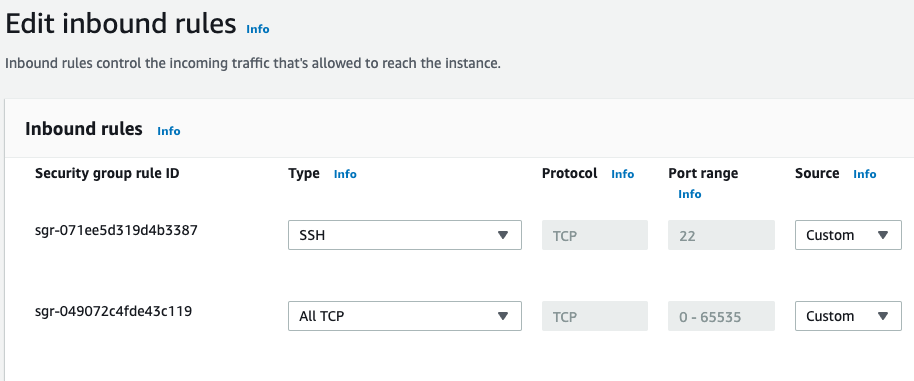 Then, access Lenses from the browser by navigating to: <Your instance publicIP>:8080